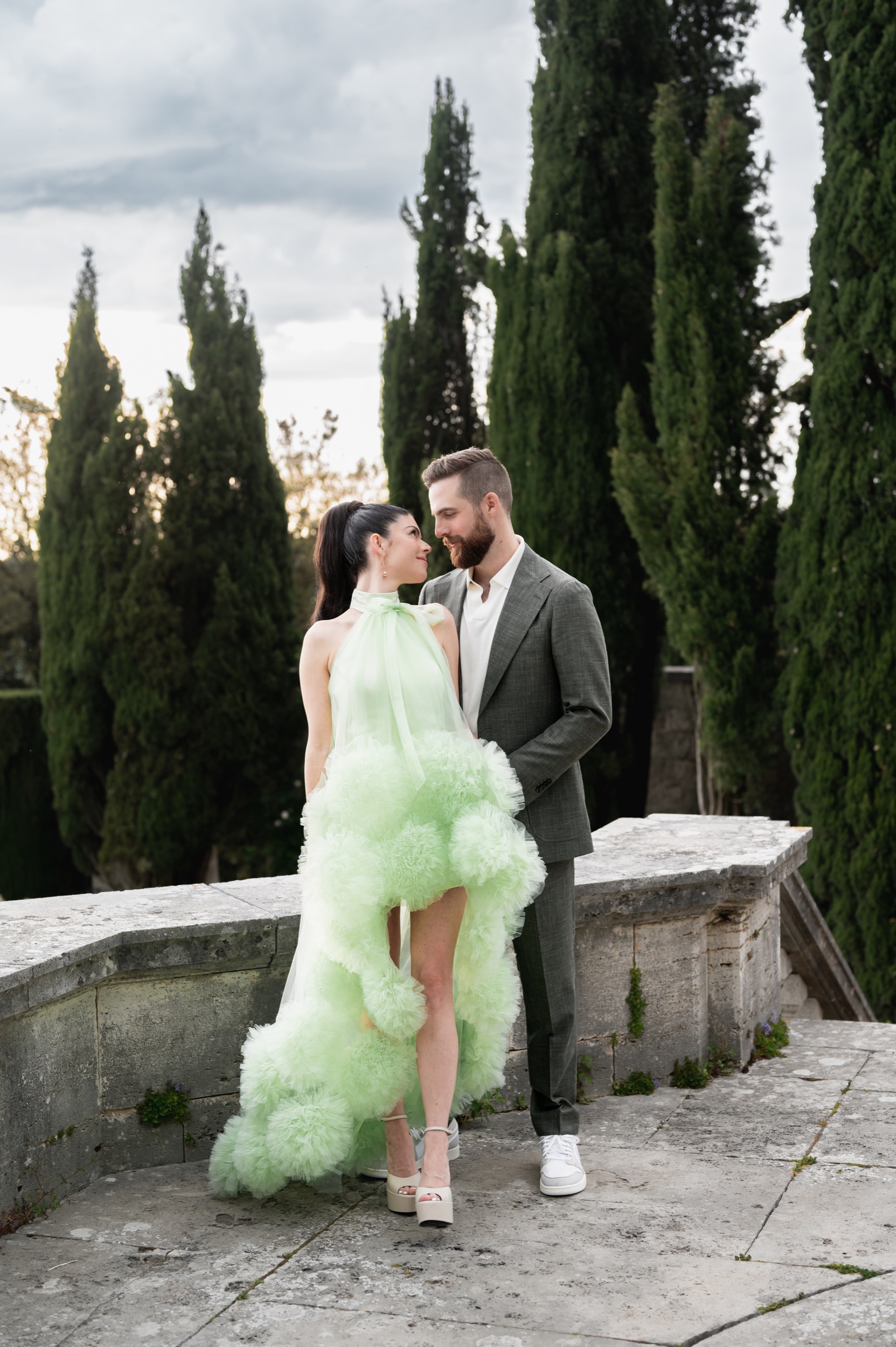 Location: Villa La Foce
Style: Elegant & Chic
Photography: Noniin Studio
Elegant and Chic Welcome Party
Bianca and William had an authentic Tuscan destination wedding at the stunning Villa La Foce. For their Chic Welcome Party the night prior to the big day, all the guests were asked to wear white. The couple's outfits remained a secret till the evening of the event!
The luxurious White Party started with a scenic appearance of the couple at the stairs of the La Foce gardens. Bianca and William greeted the guests and then snapped some couple pictures with the villa backdrop. Bianca wore a stylish and playful light green dress, while William went for a combo of white shirt and elegant grey suit. 
Then the guests were invited to the dinner area, where everything was ready for the party! For the rehearsal dinner, the couple chose lush decorations. All was in line with the natural beauty of the venue and with the party theme. The Biancospino Flowers team worked their magic by creating chic white tables with pops of reds, greens, and a touch of gold. From the beautiful plates with colorful floral pattern to the delicate floral arrangements, each detail was meant to evoke a feeling of Italian warmth and hospitality, and all out luxury.
The table was surrounded with timeless white patterned chairs. The buffet consisted of a wide choice of fresh salads, selection of antipasti, and a live pizza cooking bar.
The couple's friends and families were having fun, trying delicious cocktails, and enoying the live painting by Edoardo Nardin. All of the guests became the true protagonists of the illustrations of the painter! Everyone  received their own little portrait at the end of the evening.
The chic welcome party ended with funny speeches and lots of laughs!
Event created by Moretti Events | Exclusive Destination Wedding Planner Italy.