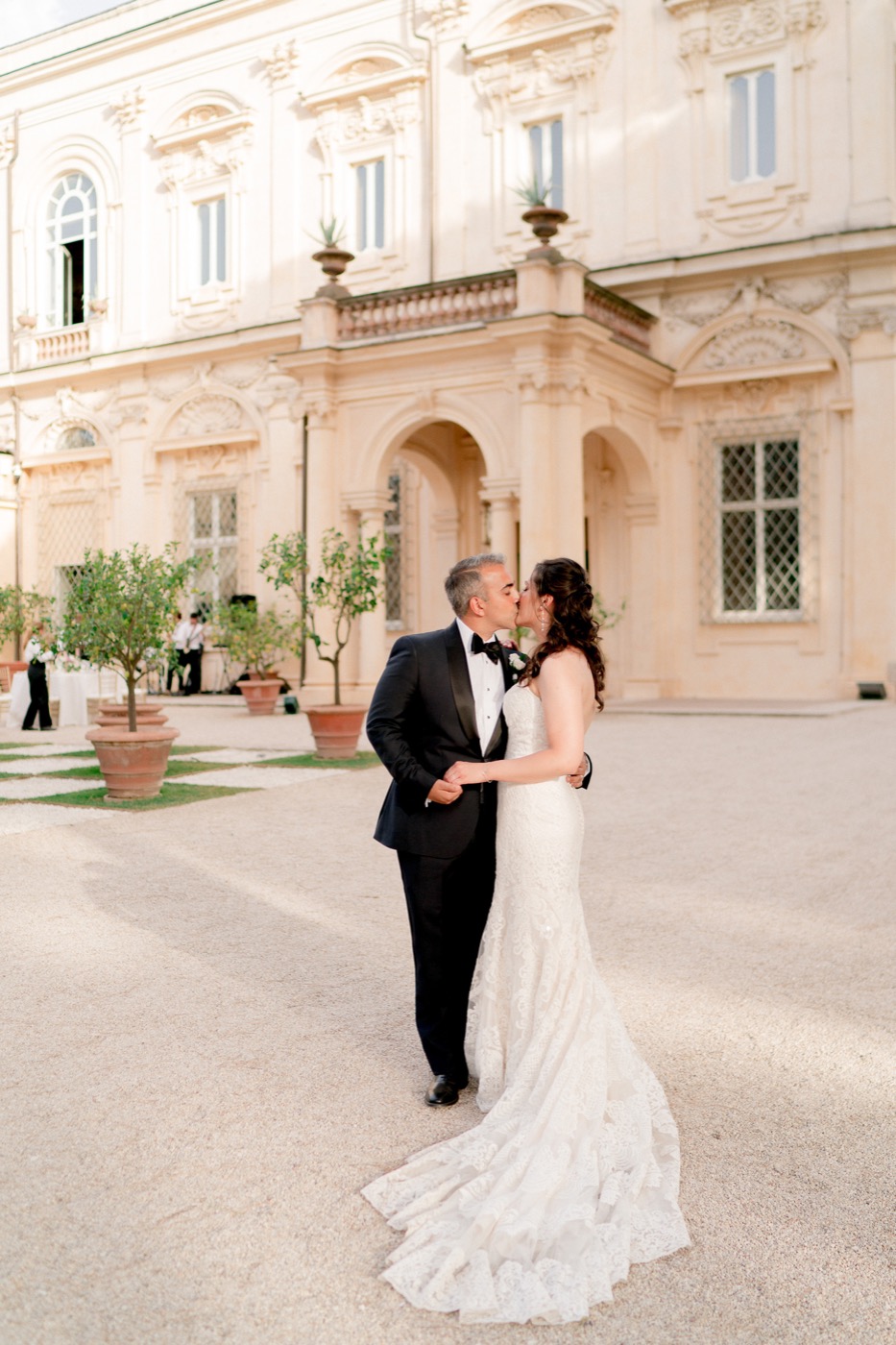 Location: Villa Aurelia, Rome
Style: Elegant
Photography: Giuseppe Giovannelli
After 3 years of planning and anticipation, the morning of Kristina and Sagar's luxurious wedding at Villa Aurelia in Rome finally arrived! It was full of excitement, anticipation, and charm. The bride and groom began the day by getting ready surrounded by the refined, golden interiors. This baroque villa is located on the highest point of the Janiculum hill. The venue provides a spectacular view of the eternal city. You can't find a more ideal venue for a chic destination wedding in Rome!
Destination wedding in Rome
Getting ready is one of the most exciting parts of your wedding day! You can choose whether to kick off the celebration with a glass of champagne surrounded by your bridal party, exchange gifts, prepare your vows, or opt for a serene start. While Sagar was getting ready, Kristina opted for a grand reveal of her chic wedding gown with her bridesmaids. The bridesmaids are the bride's biggest support team, so sharing such a beautiful moment with them starts off the day with love and motivation!
After that, Kristina and Sagar wanted a very special and intimate moment just for two of them. The couple had their first look right before the ceremony. Such an emotional and unforgettable experience to share with your loved one!
The couple's chic and elegant summer ceremony took place at the enchanting giardino segreto of the villa. Kristina and Sagar opted for a symbolic ceremony with their friends and family.
The natural splendor of the garden served as a perfect backdrop for the ceremony. The aisle was accompanied by a gorgeous floral arch with whimsical, pink-toned blooms. Simple yet perfectly aligned chairs with folded fans for each guest matched the immaculate day.
Luxurious Wedding at Villa Aurelia
After the lovely ceremony, the celebration continued with an outside aperitivo. The snack bar was accompanied by a framed drink menu and an exquisite, antique sculpture to store the drinks. Round cocktail tables and several vimina sets, decorated with neutral blooms, were placed throughout the garden for guests to enjoy a chic and graceful afternoon.
The chic wedding reception was held in the lemon garden of the villa. The wedding décor was beautifully complemented by lemon trees. The reception was painted with white, ivory, blush pink and mauve color palette, with a touch of greenery, adding a sweet elegance to the day. The tablescape for the round tables was filled with exquisite rose-filled center pieces. Pink candles in golden candle holders, dusty pink napkins, and crystal glasses  added an elegant and stylish look to the overall wedding reception.
The cutting of the millefoglie wedding cake and a night of dancing marked the end of Kristina and Sagar's magical day. With a glamorous couple, an extravagant venue, and a whimsical ceremony and reception, there is no denying this luxurious wedding at Villa Aurelia was sure to sweep everyone off their feet!
Wedding created by Moretti Events | Exclusive Destination Wedding Planner Italy.