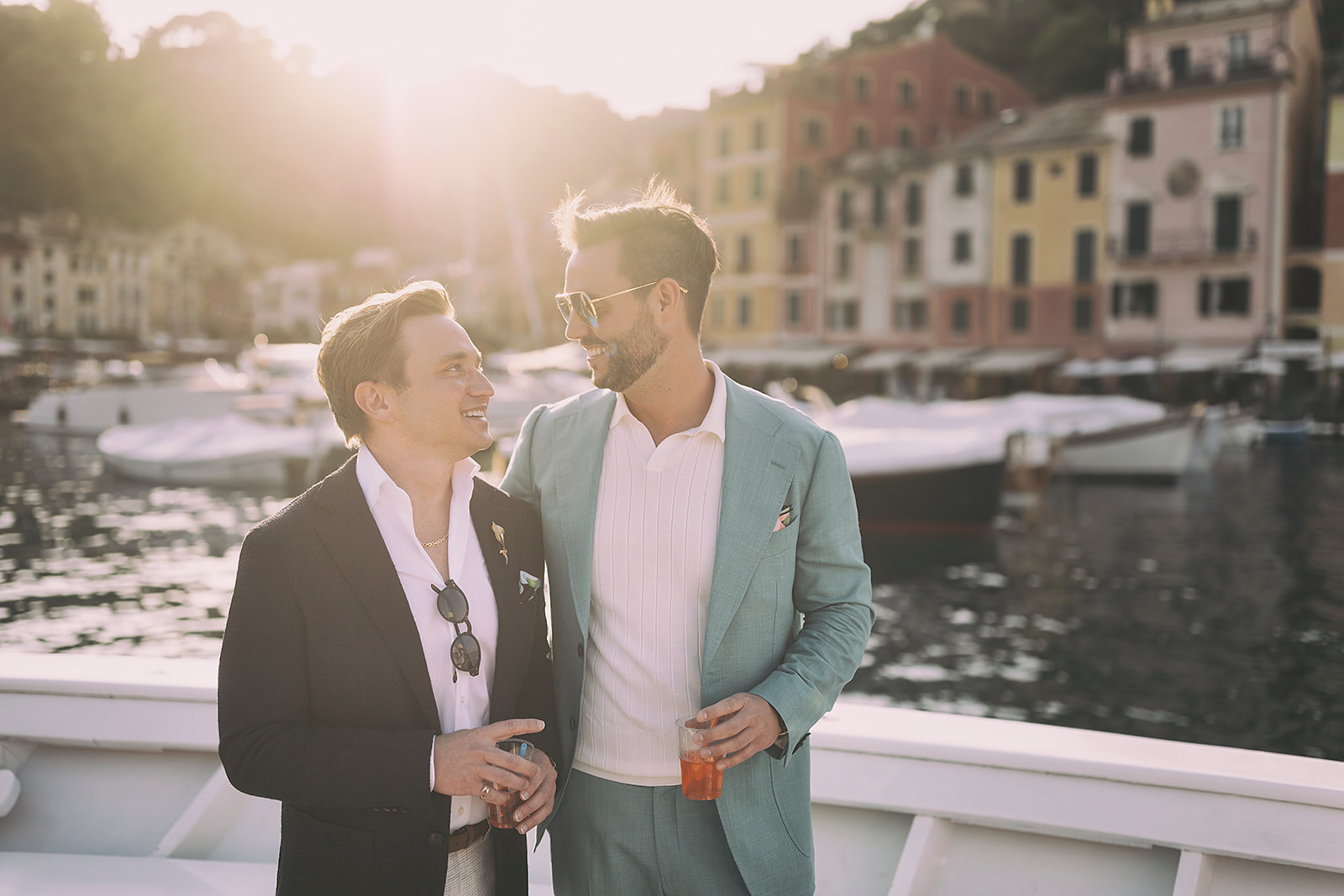 Location: Portofino, Liguria
Style: Dolce Vita
Photography: Daniele Vertelli
Imagine a sunny day in June and a glimmer of light over the blue waters of the Italian Rivera. You find yourself surrounded by steep lush green hills, green pines with branches reaching for the deep blue sea, luxury villas, quaint alleys, and pastel-colored houses. As you enjoy a luxurious boat ride, you are captivated by the natural beauty of the Ligurian coast.
Every love story has something special to celebrate. Justin and Phil found just the right way to build up anticipation for their big day. The couple kicked off their destination wedding celebrations with a stylish welcome dinner in Portofino two days before tying the knot. Their guests enjoyed a beautiful Italian Rivera boat ride departing from Santa Margherita Ligure. A sunny day accompanied by joyful Italian music from a Folk Trio! To add a personalized Italian touch, the couple had a vintage Vespa curated specifically for their event to adorn the bar area. What better way to start off the day than being with loved ones on a delightful boat ride amidst the treasures of the Italian coastline?
Stylish Welcome Dinner in Portofino
Justin and Phil's celebration is the epitome of a chic rehearsal dinner.  An event that was talk-worthy and captivated all of the guests! After the boat arrived at the Portofino port, the couple took romantic pictures with the scenic Portofino backdrop. The chic celebration continued at the lovely Da I Gemelli Restaurant. For Justin and Phil, being surrounded by the charming pastel buildings and overlooking the ethereal waters, proved enough to host their stylish welcome dinner before their destination wedding at La Cervara Abbey.
The couple made an ode to the surroundings with a Mediterranean Style celebration. A day full of charm, romance, and beauty!
For the dinner, the guests were seated outdoors. The reception tables were adorned with fashionable details that reflected the atmosphere of the dreamy Italian Rivera. From hand-painted porcelain vases, fresh lemons, ivory and white flowers with a hint of a warm yellow, to lemon trees, and touches of greenery – all the elements of the tablescape exuded a fresh and vibrant feeling. The Testa Di Moro Sicilian style vases and the collection of authentic candle holders with a bird and intricate designs added a special touch to the decor.
Later, when the sun disappeared, the Portofino evening offered a magical atmosphere. String lights illuminating the town and reflecting on the water made it a perfect way to end the day. Every detail and moment of Justin and Phil's celebration will keep you intrigued by their enchanting love story.
Event designed by Moretti Events | Exclusive Destination Wedding Planner Italy